Professional Mold Removal Canon City Has Near You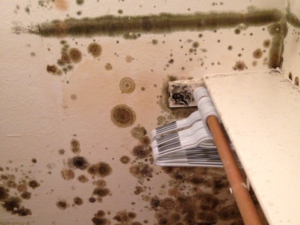 An urgent need for mold removal Canon City has near you is only within grasp.
Imagine discovering a huge black wall behind the layer of paint on your property.
Concerning questions arise to your mind:
…"How long has this been here?"
…"How long have I been inhaling these spores?"
…"How can I remediate this mold infestation quickly?"
We understand your concerns. Which is why we're an extensive disaster restoration company at 911 Restoration of Fremont County. We deliver the Fresh Start to the local communities of Canon City and Florence to put you at ease.
Free visual mold inspection for property owners only
IICRC certified in mold remediation
Professional mold inspection & sampling
Residential & commercial mold removal
Structural drying & dehumidifying
As a complete care provider – we also offer a variety of services like water restoration in Pueblo CO near Canon City, fire restoration contractors near me near Florence, or commercial restoration near Canon City.
Dealing with the growth of mold on walls of your property isn't something you'd want to hold off and take lightly either. Doing so will only hurt you and your property in the long-run.
Now is the time to take action for mold remediation Canon City offers near you to guarantee your path to a safer and healthier property.
Claim your free mold inspection today by calling the professionals at 911 Restoration of Fremont County.
Worry-Free Mold Remediation in Schools and Commercial Buildings
You can finally stop searching for "mold restoration near me" and let the professionals take care of the rest from here.
Whether you're dealing with mold on your residential property or business – we also provide mold remediation in schools and commercial buildings near Canon City. The last thing we'd want you to deal with is putting others like kids and people with weakened immune systems at risk.
After your initial call, we'll quickly send our IICRC-certified technician to perform an in-depth mold inspection at no cost. They'll be looking for key signs of mold growth to make the case:
High humidity and moisture
Leaking pipes
Nasty odor
Warped walls/wood
Visible mold
During the process of mold remediation Canon City has near you, we'll pack your belongings to safety from further damage. Our mold technicians also use the latest drying and dehumidifying machines to speed the process. This ensures no traces of mold to make a comeback.
Old property structures, walls, and linings will be stripped for new materials to make its way into your property.
Before you know it, you'll soon be arriving at a property fresh as new you'd never had imagined.
Business owners, property owners, and residents of Canon City or Florence can finally live in peace knowing their spaces are safe and mold-free.
Give students, workers, and residents the Fresh Start they need with mold remediation in schools and commercial buildings near Canon City and Florence.
Your Future's Bright With Mold Removal Canon City Has Near You
What exactly contributes to our Fresh Start promise we provide?
Simply, a seamless restoration experience for all our customers.
We work with all insurance companies to take out the stress from the equation
Unmatched reliability with 24/7 availability and same-day service
A speedy team with a 45-minute response time guarantee
Nationwide resources and networks with the local feel with top-notch customer service
Importantly, the peace of mind you get from a team that truly cares
While a mold infestation may feel distressing, we want to let you know those feelings change now.
Once you call our friendly customer service team, you'll be on your way to a brighter future full of opportunities for your Canon City or Florence property.
Don't know where to start with mold removal Canon City has near you?
Inquire within and we'll give you a free mold inspection to give you a complete breakdown for the best solutions possible from our experts.
Get your Fresh Start today!
Serving the communities of Canon city, Florence, Penrose, Pueblo and surrounding areas.