Complete Canon City Water Damage Restoration Near Me
Searching for "water damage restoration near me" shouldn't have to be a hassle.
That's why the caring and fast team at 911 Restoration of Fremont County always puts themselves in their customers' shoes.
We know dealing with a water disaster in Canon City, Florence, or surrounding areas is the last thing any property owner wants to deal with. After all, Colorado's Fremont County has enough water and moisture in the air.
Leave it to a team of experts to put your water woes to rest with the best water damage restoration near Canon City.
Free visual inspection for property owners only
Burst pipe emergencies
Testing and evaluating structural damage
Emergency leak detection & repairs
Complete water extraction, drying, & dehumidifying
Whether you're dealing with a flooded basement, damaged roof, or an annoying leak – the confidence you need in your property is finally here.
We believe in second chances at 911 Restoration of Fremont County. Because what Canon City or Florence property owner asks for a water disaster to arrive and wreck their belongings?
Get the Fresh Start your property needs with water damage mitigation near you today.
It's easier when you have a dependable team that stands by your back the whole way through.
Certified Experts Who Excel at Water Mold Fire Restoration Near You
It's important when looking for water mold fire restoration near you to ensure the team you're working with carry the right credentials.
It's easy for any disaster restoration company to say they can get the job done with quality work. But it's the technician's credentials, education, and experience that prove what they say is true.
At 911 Restoration of Fremont County, we register and train our technicians through the Institute of Inspection Cleaning and Restoration Certification organization.
What does that mean?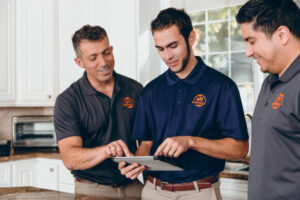 Our disaster experts undergo continuous learning to stay on top of industry standards
We're insured, licensed, and bonded for your protection and satisfaction
Excellent service you can count on
A guaranteed Fresh Start for your Canon City or Florence Property
It also means we excel in multiple areas to treat your disaster. From fire restoration contractors near me near Canon City, mold 911 near Florence, or commercial restoration near Canon City – we do it all.
Our disaster restoration experts are also skilled with the latest technology and equipment to ensure your property is fresh as new. They use state-of-the-art drying and dehumidifying machines, air movers, advanced thermometers, and heavy duty chemicals (safe and eco-friendly).
Why risk a poor job done from getting water mold fire restoration from a company who doesn't carry their IICRC-certification.
Choose 911 Restoration of Fremont County to get a fresh property nothing short of perfect with the best water damage restoration near you.
Water Damage Restoration Near Me With a Fresh Start
If it's one thing that sets our water damage mitigation services near you apart from others, is our Fresh Start promise.
It's the reason why customers love doing business with us, how we change the lives around the community, and how we're able to see our customers succeed.
What comes with a Fresh Start?
A fast team with a 45-minute response time you can count on
Reliability with same-day service and 24/7 availability
A stamp of approval from a team of IICRC-certified disaster restoration experts
Care, trust, and confidence with your needs and goals exceeded
Finally, highly trained technicians that provide you with peace of mind after any disaster
What you're going through may feel like it's the end of the world.
But take a step back and look at your current circumstance as a new beginning.
This is your chance to finally live the life you've always wanted to have in your dream property.
Still skeptical?
It's time to stop searching for "water damage restoration near me" for your Canon City or Florence property.
Call our friendly customer service team to learn more about a life changing decision you won't regret with a team that truly cares.
A Fresh Start is closer than you think.